Sunset Cruise to be Birthday Bash for 100 Year Old Harbor of Refuge Light Station
You are cordially invited ...
to join the Foundation aboard one of the Sunset Cruise boats
or in your own vessel
on Sunday, June 22, 2008, at 7:30 pm
in the Delaware Bay near Harbor of Refuge Light Station
to celebrate the 100th Anniversary
of the first lighting of the first Harbor of Refuge Lighthouse
with a champagne toast and a birthday serenade.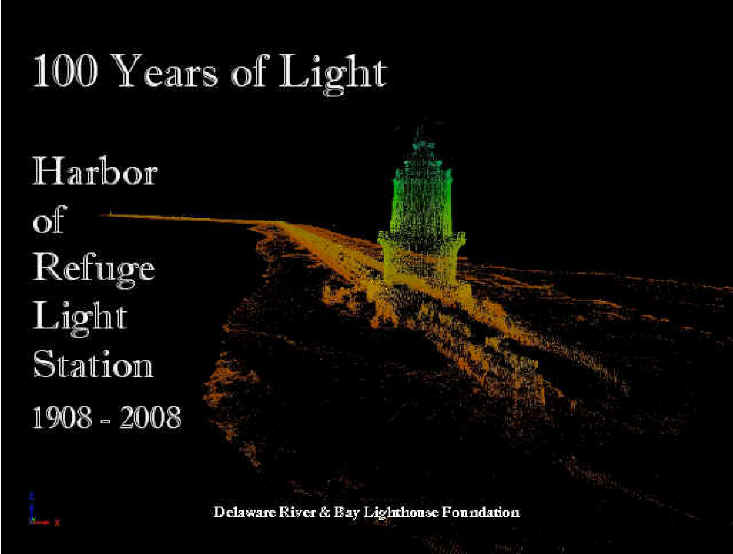 LEWES, DE – Celebrating the 100th anniversary of the lighting of the first Harbor of Refuge Lighthouse, the Delaware River and Bay Lighthouse Foundation will turn this year's annual Sunset Photo Cruise into a birthday salute to the century old aid to navigation.
Although the actual anniversary isn't until November 20, the celebratory cruise will take place on Sunday, June 22, from 6:30 to 8:30 pm.
At 7:30 pm, the three vessels chartered by the Foundation for the trip will rendezvous at Harbor of Refuge Lighthouse, raise a champagne toast, and sing Happy Birthday to the 100-year-old light station.
Area boaters are invited to sail their own craft to the lighthouse at the same time and join in the singing and toasting. Resident dolphins have been asked to perform, but their appearance is always happenstance.
The evening will also include photo opportunities around Delaware Breakwater East End Lighthouse, the Sussex coastline, and – with just a little luck – a magnificent sunset.
Members of the Foundation Board will be on hand to provide information and answer questions about the lighthouses, the Foundation's restoration work, and the U.S. Army Corps of Engineers' plans to repair the deteriorating Harbor of Refuge Breakwater Wall.
Tickets for the cruise are $25 for Foundation members and $30 for non-members and include champagne for the birthday toast. Participants are invited to bring their own snacks and other drinks, as well as camera gear and binoculars. (Sorry, boaters coming on their own craft, BYOB.)
To make reservations on the Cruise boat, call the Foundation at 302-644-7046.
Supporters of the 2008
Door Campaign
The Foundation is grateful for the support of the following individuals, organizations, and businesses who have made generous contributions to the restricted Harbor of Refuge Door Fund. This listing reflects contributions received thru June 13, 2008
Ron & Jean Parks
Harrisburg, PA
Lewes Chamber of Commerce & Visitors Bureau
Lewes, DE
Faye Yonker
Milford, DE
Ron & Joyce Wetzel
Georgetown, DE
Everett & Susan Bennett
Milford, DE
Wade & Jackie Hudson
Milton, DE
Charles & Sally Stevenson
Milford, DE
Charles & Patricia McMichael
Wilmington, DE
Ann & Charles Overton
Perkasie, PA

Kathy O'Grady
Rehoboth Beach, DE
Arnie Krammes
Wilmington, DE
Pris Hendricks
Middletown, DE
Mark & Nancy Freebery
Milford, DE
In Honor of
Harry E. Spencer Jr.
& Harriett S. Piser
Robert Rosenberg
Lewes, DE
Frank & Kathy Drejka
Hockessin, DE
Susan Pawlikowski
Milton, DE
Paul & Marthanne Glenn
Silver Spring, MD