[ Home ] [ Our Lights ] [ Who We Are ] [ Join Us ] [ Tours ] [ Foundation Merchandise ] [ Photo Gallery ] [ News Archives ] [ Light List ]
Posted April 11, 2009
&nbsp &nbsp &nbsp &nbsp &nbsp &nbsp &nbsp &nbsp
Trial Run for the Door Delivery

In hopes of making delivery of the new door to Harbor of Refuge Lighthouse easier, the Delaware Bay and River Cooperative, Inc. was willing to donate the services of a heavy-duty crane based on the deck of the oil spill response boat DelRiver. In late March, Eugene Johnson, president of the co-op, Gardner Knight (left) its Lewes manager, Charles Myers of the Army Corps of Engineers, Judith Roales and Red Moulinier of the Foundation, and others, made a trial run to see if the 168-foot boat could safely maneuver close enough in to the breakwater to swing the heavy iron door and frame aboard the light station.

Unfortunately, the answer was no.

Nevertheless, the Foundation is grateful to DBRC for its efforts and its willingness to help.
Breakwater Lighthouse Mugs & Ornaments are Here

Just like our Harbor of Refuge mug and ornament, these wonderful porcelain products are from Gateway China of Butler, PA.

For our second year with these exclusives, we've added Delaware Breakwater East End Lighthouse.

Oversize mug. 4" high x 3 3/4" wide. Holds 12 oz. Just $15 plus shipping. (Shipping by Priority Mail is $10.35 for up to 4 mugs.)

Ornament has gilt trim on front, 3" diameter. $10 plus shipping. Both have same brief text on back. (Shipping by Priority Mail is $4.95 for up to 6 ornaments.)

To order, send your check to the Foundation at P. O. Box 708, Lewes, DE 19958.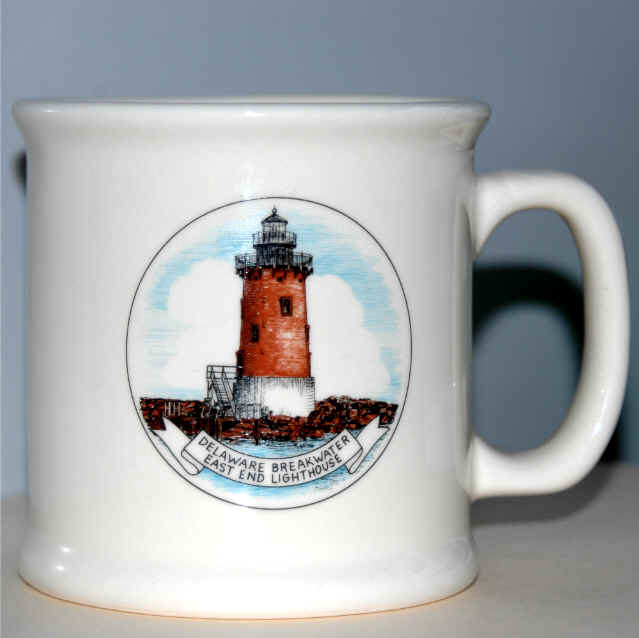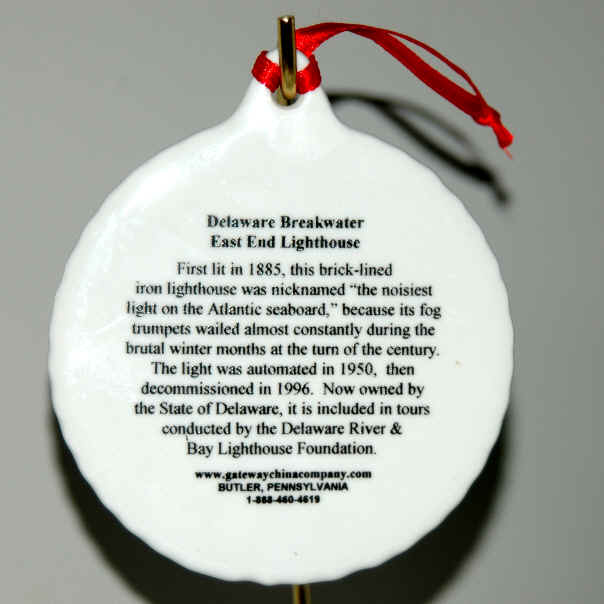 151This web site is maintained by Delaware Quilts